Alabama Center For Dispute Resolution
Supreme Court Commission on Dispute Resolution
Since 1994, we have been the state office of dispute resolution for Alabama. At the Center, we work with the courts, the Alabama State Bar, state agencies, schools, community mediation initiatives, and businesses to promote early and peaceful resolution of disputes. The Center serves as the administrative arm of the Alabama Supreme Court Commission on Dispute Resolution. Read more about the Commission.
Highlights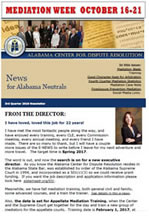 News for Alabama Neutrals The 2016 3rd Quarter newsletter is available:
- Online at alabamaadr.org/email/1609_ NAN_Newsletter.html
- PDF at alabamaadr.org/web/media/newsletters/
In this issue:
Mediation Week
Training
Good Character Reqt for Arbitrators
Fourth Quarter Mediation Statistics
Mediation Case Note
Foreclosure Prevention Mediation
FORECLOSURE MEDIATION ENTERS PHASE II We launched Phase II of the Forclosure Prevention / Mortgage Modification Mediation Program on September 1, 2016. Read More - Find a Foreclosure Mediator - FAQs
UPDATED Judges Mediation Bench Book: A Resource for Alabama Trial Judges (2nd edition) This handy Judge's Mediation Bench Book puts all the law, court rules, code of ethics, forms, and information about mediation in one place so you know about the process and can take advantage of it. Download a copy.
Placing Children First A video produced by the Administrative Office of Courts, Alabama. This video discusses Children's Rights and provides Tips for Parents with Shared Custody to be sure to put the children first. Go to Video. This video ties into our free family mediation program (next paragraph).
FREE Divorce & Family Mediation Program
It's a Win-Win program...
- Parents get help mediating a parenting plan and resolving other divorce issues.
- The Center reimburses the mediator.
Is your county offering this program yet? We have updated information on which Alabama counties are participating!
- More information and map on the Family Mediation page -
More


Did you know we're on Facebook? Visit our page at facebook.com/alabamaadr and Like us to keep up with the latest news and happenings at the Alabama Center For Dispute Resolution!

We're also on Twitter! While we don't have a lot of "fast-breaking news," we also have a Twitter account to keep you up on the latest. Follow us @AlabamaADR at twitter.com/alabamaadr
And now we have a YouTube channel! We are loading videos and pointing to reference videos related to our favorite topics... mediation, negotiation, arbitration, restorative justice, etc.
Visit Alabama Alternative Dispute Resolution Center on YouTube.
We've been blogging for years! Get news when we learn it. Access training information. Learn the latest. Read our blog or sign up for the RSS news feed. Go to alabamaadr.org/blog.