ACDR News and Highlights
Since 1994, we have been the state office of dispute resolution for Alabama. At the Center, we work with the courts, the Alabama State Bar, state agencies, schools, community mediation initiatives, and businesses to promote early and peaceful resolution of disputes. The Center serves as the administrative arm of the Alabama Supreme Court Commission on Dispute Resolution.
New for Alabama Neutrals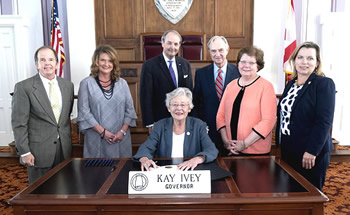 October 3, 2018, Governor Kay Ivey signed
the 2018 Mediation Week Proclamation.
Pictured are (seated) Alabama Gov Kay Ivey, (standing l to r) Alabama Supreme Court Commission members Scott Hoyem, Lynn DeVaughn, Justice Will Sellers, and William Coleman, ACDR Exec Director Eileen Harris, and Alabama State Bar President-Elect Christy Crow.
Appellate Mediation Training
November 15, 2019, Montgomery
- Registration is open! Learn more.
ADR by the Numbers
Our 2018 statistics report, ADR by the Numbers, is available online. Go to the report.
July 2019 Newsletter
The July 2019 News for Alabama Neutrals is online. Read or download a copy today.

CLE Opportunities
NEW - Collaborative Law Practice Series - 2019
This four-part series of free 60 minute webinars will guide you through the ins and outs of collaborative law practice Register for one or more webinars. All webinars begin at noon and end at 1 p.m. You must register at least two days prior to the event. The webinars have been approved for one hour of MCLE credit each.
This series is sponsored by: the Alabama Center for Dispute Resolution, the Birmingham Bar Association – Collaborative Law Committee, Birmingham Collaborative Law Alliance, and the Dispute Resolution and Solo/Small Firms Sections of the Alabama State Bar.
PAST - Introduction to Collaborative Law Practice (Video available..link at bottom of page.)
PAST - Focus on Team: Breaking Down Roles (Video available soon)
October 18, 2019 "The How To's of Collaborative Law" (one hour credit)
December 6, 2019 "Informed Consent/Civil Collaboration" (one hour of Ethics credit)
Learn more and register for the Collaborative Law Webinar series.

Appellate Mediation Training
Join us for Appellate Mediation Training on November 15, 2019!
Trainers: Jim A. Rives, Esq., Ball, Ball, Matthews & Novak, PA and Allison O. Skinner, Esq.
Date: November 15, 2019
Place: Alabama State Bar, Board Room, 415 Dexter Avenue, Montgomery, AL 36104
Time: 8:30 a.m.— 9:00 a.m. Sign In, 9:00 a.m.— 4:35 p.m. Program (Lunch will be provided).
CLE: This course has been approved for 6.8 hours of MCLE credit (including 1 hour of Ethics) by the Alabama State Bar.
Cost: $400 per attendee. (If you are a registered mediator with the Alabama Center for Dispute Resolution you may deduct $50 from the course registration fee).

Educational Videos are Online
2019 Collaborative Law Practice - We will be making webinars from our 2019 series available online.  Online now:
View Collaborative Law Practice Videos.

The Hype about HIPAA and HITECH - Samarria Munnerlyn Dunson, J.D., CHC, CHPC, walks you through HIPAA Basics, Business Associates, HITECH, Charging for Medical Records-Latest Guidance, Enforcement Update, and HIPAA on the Horizon. Learn more and view this video.

More Training
Take advantage of upcoming training opportunities sponsored by the Alabama State Bar Section on Dispute Resolution and the Alabama Center for Dispute Resolution.