ACDR News and Highlights
Since 1994, we have been the state office of dispute resolution for Alabama. At the Center, we work with the courts, the Alabama State Bar, state agencies, schools, community mediation initiatives, and businesses to promote early and peaceful resolution of disputes. The Center serves as the administrative arm of the Alabama Supreme Court Commission on Dispute Resolution.
Small Claims Mediation News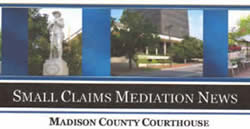 The September 2017 Small Claims Mediation News is online.
Parents are Forever Family Mediation Program
This program is a collaboration of the Supreme Court of Alabama and the Alabama Center for Dispute Resolution.  It provides families with free family mediation when there are children, a family income under $60,000, and the judge orders parents to mediate a parenting and financial plan for their family.
It's a Win-Win program...
- Parents get help mediating a parenting plan and resolving other divorce issues. 
- The Center reimburses the mediator.
Is your county offering this program yet? 

Court Year October 2016–June 2017
79 mediations, 52 agreements, 65.8% settlement rate 
Average Family income: $42,914; 
Children benefited: 124 
Pro bono time given by mediators:  96.28 hours

- More information and 2017 statistics on the Family Mediation page -