ACDR News and Highlights
Since 1994, we have been the state office of dispute resolution for Alabama. At the Center, we work with the courts, the Alabama State Bar, state agencies, schools, community mediation initiatives, and businesses to promote early and peaceful resolution of disputes. The Center serves as the administrative arm of the Alabama Supreme Court Commission on Dispute Resolution.
CLE Opportunities
Take advantage of upcoming training opportunities sponsored by the Alabama State Bar Section on Dispute Resolution and the Alabama Center for Dispute Resolution.
February 21-22, 2019 - Understanding and Managing High Conflict Personalities - Two Events
It seems like the struggle to manage "high conflict people" has mushroomed in recent years. Many people are struggling with a colleague, opposing counsel, opposing party, partner, spouse, friend or co-worker with whom they find communication especially challenging and/or frustrating. If this is true for you or any of your friends, acquaintances or clients, make them aware of these two amazing opportunities!
February 21, 2019, 7:00pm-8:30pm - Public Lecture, Free Event (No CLEs) - An introduction, by Bill Eddy, LCSW (a lawyer and trained mental health provider ) and Shawn Skillen, Esq, to their ground-breaking work in the area of high-conflict personalities in the context of legal and other disputes. Meets at Vestavia Hills United Methodist Church. ~ Details in flyer.
February 22, 2019, 9:00am-12:00noon - CLE Event (3.0 hrs) - Bill Eddy, LCSW (a lawyer and trained mental health provider ) and Shawn Skillen, Esq, will host a continuing education event at the Birmingham Bar Association. This event will focus on their work with high-conflict personalities in the context of legal and other disputes. The presentation will include key insights about how to identify, recognize, intervene, and effectively deal with high conflict personalities. Held at the Birmingham Bar Center. ~ Details and registration.
March 1, 2019 - Application of Collaborative Principles to Traditional Legal Practice - Free Webinar
Noon-1:00pm CST - (1 hr credit - applied for) - Part of the 2019 Collaborative Law Practice Webinar Series. Faculty includes:  Frances Nolan, Steven Gregory, Brian Turner, Melanie Merkle Atha and Virginia Miller. To learn more and register, go to our Training Page or register here by using this Collaborative Law Practice Series Information and Registration Form (pdf).
More training opportunities are highlighted on our Training Calendar.
New for Alabama Neutrals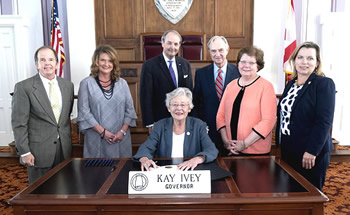 October 3, 2018, Governor Kay Ivey signed
the 2018 Mediation Week Proclamation.
Pictured are (seated) Alabama Gov Kay Ivey, (standing l to r) Alabama Supreme Court Commission members Scott Hoyem, Lynn DeVaughn, Justice Will Sellers, and William Coleman, ACDR Exec Director Eileen Harris, and Alabama State Bar President-Elect Christy Crow.
Educational Videos are Online
The Hype about HIPAA and HITECH - Samarria Munnerlyn Dunson, J.D., CHC, CHPC, walks you through HIPAA Basics, Business Associates, HITECH, Charging for Medical Records-Latest Guidance, Enforcement Update, and HIPAA on the Horizon. Learn more and view this video.
Collaborative Law Practice - The first two parts of our 2018 webinar series on collaborative law practice, are available on videos.!   Both were recorded at ACDR webinars. Online now:
Part 1: Introduction to Collaborative Law Practices from August 24, 2018 


Part 2: Focus on Team: Breaking Down Roles

from September 21, 2018